Would like to have free cooling for my house and reduce my air conditioning bill by 20 to 30%.
Free Cooling is the ability to allow fresh cool outside air into your HVAC system as first stage cooling. By using a Venstar T5800 with a Venstar ACC-TSEN outdoor air sensor you can set the exact outdoor temperature you want to turn on the fan and drive open the normally closed (N/C) free cooling damper to bring in cool outside air. A normally open (N/O) return air damper is closed and this cold outside air gets pulled in through the furnaces filter and cleaned. After it is cleaned this cold air is distributed throughout the house by the existing supply ducts. To keep the house from being over pressurized a normally closed (N/C) barometric relief damper should be installed in the return duct which will relieve warm/stale air into the attic. This damper may not be necessary if the house is not a well sealed house or if the house has fireplaces and the fireplace dampers are left open, all the smarts to do free cooling are already programmed into the T5800.
In most areas of the country you have a lot of hours when the temperature of the outside air is less than the indoor air and still cooling is required. [
See Chart
]. The thermostat works by comparing the outdoor air with the room air and if the outdoor air is cooler and the thermostat is calling for cooling it opens the fresh air damper and uses the air to cool the house without running the compressor which reduces your energy consumption by 80%. If the outdoor air cannot cool the house to within 2 degrees (settable) of the desired temp then the thermostat closes the outdoor damper and turns on the mechanical cooling. The entire operation is automatic and works especially well for operation at night when the homeowner may start out with mechanical cooling but as the outdoor temperature cools down at night the system switches to free cooling. It also works great where the homeowners are away all day with the AC off and then before they arrive home either by wifi or by the time program the system is switched on and the heat build up from not running the AC all day can be exhausted by the free cooling system.
Here is a list of the general parts needed to add the free cooling option to a residential split system.
Venstar T5800, ColorTouch thermostat
Venstar ACC-TSEN, 10K outdoor air sensor
50314, 24-volt, 50VA transformer
90340, 24-volt, 2 pole relay
Free Cooling spring close damper (convertible to spring closed in the field)
Return Air spring open damper
Barometric relief damper for venting excess pressure into attic
*You may need to field install filters, plenums, ducting, grills, louvers, wires, tee-wyes or any parts not mentioned above*
In mild climates it can be installed as a standalone system or with mechanical air conditioning. Works with most residential & commercial Gas/Electric or Heap Pump split systems and all outside air is cleaned through existing filters. We recommend using a Zone First 24-volt RDS"xx" spring return dampers for return and free cooling and a ZoneFirst SPRD"xx" for the barometric relief. See attached drawing of horizontally installed HVAC unit and wiring diagram. When a single stage A/C is used on this system, it would wire to the Venstar T5800's "Y2" terminal.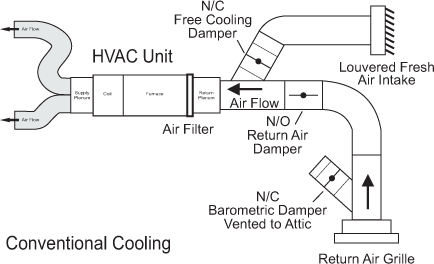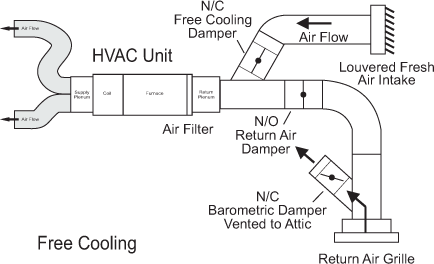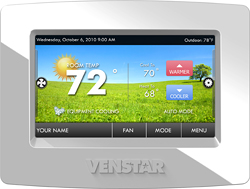 ColorTouch Model #T5800
ColorTouch Series Model #T5800
ColorTouch™ is a multi-functional, simple-to-use, richly featured, programmable touch screen thermostat that thinks it's a digital picture frame. ColorTouch has customizable backgrounds, including the users' own photos, and more than a dozen preset themes, including holiday themes.
Customizable appearance using users' own photos
Built-in nature and holiday themes
ColorTouch Assistant software make configuring fast and easy
SD Memory Card makes import/export between thermostats easy
Engaging screensavers with slideshow, digital and analog clock options
"Simple as You Want" operation lets user customize thermostat info
Scheduler keeps home temperature comfortable
At-a-Glance Screen lets users see temperature and heating/cooling status
Automatically adjust screen backlight with nighttime dimmer
Energy usage info at the user's fingertips
Security features for locking thermostat
Customizable faceplates to match home décor
Automatic daylight savings adjustments, multiple languages, alerts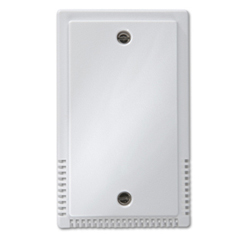 10k Remote Sensor ACC-TSEN


10k Remote Sensor ACC-TSEN
The ACC-TSEN is a remote temperature sensor that is compatible with the T5800 (outdoor only) and T6800 ColorTouch thermostats.

T5800 Functionality - Outdoor Only
When the ACC-TSEN is connected to the T5800 ColorTouch thermostat it may be used as an outdoor sensor only. When installed the outdoor temperature reading will appear on the T5800 display and show the high and low temperatures for the day.
Back