Symptom:
Would like to keep the new baby's room or any room at a perfect temperature all the time.
You can easily add a wireless thermostat model #T1100RF You replace the thermostat that controls the area of the house that the room you want at the perfect temp is in with a wireless thermostat usually the wired thermostat will be in a hall way. The base unit (receiver) of the wireless thermostat mode # T1100REC goes right where the old thermostat was located and wires just like a wired thermostat. However now you have another device which is the wireless thermostat model #T1100RF which includes the temp sensor. Wherever you place the thermostat it will keep that room at the desired temperature. All other rooms on the same HVAC system will have different temperatures based on how much air flow and air-condition load they have. The wireless thermostat can be placed anywhere on a night stand, screwed to a wall etc. Since the thermostat is completely portable you can move the thermostat to different room and wherever you put it that room will be conditioned to your desired temp. You can have up to 4 thermostats on one receiver, so you could put one thermostat in a room upstairs (say a bed room) and another in the living room down stairs. The last thermostat you touch is the controlling thermostat so you could touch the thermostat upstairs when you go to bed and keep the perfect temp for sleeping and then when you go downstairs in the morning touch the living room thermostat so you keep the perfect temp in the living room or even put another thermostat or move the living room thermostat to the kitchen so you have the perfect temp when you are cooking.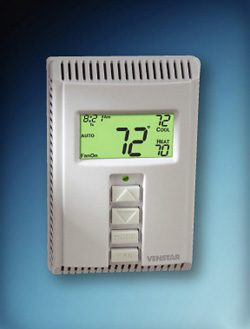 Model #T1100RF / T1100REC
Wireless Thermostats Model #T1100RF / T1100REC
Standard Features
Completely wireless - receiver can be mounted at unit or at old thermostat location
Up to 4 thermostats can be used with one receiver
Transmits through walls and floors - range up to 500 feet in clear air
Transmits at 418MHz using pulse code modulation - won't interfere with other wireless systems
Uses two AA lithium batteries
7 day programmable with 4 time periods per day and copy command
Large, easy to read display with Thermaglow™ backlight
64 house codes allow installation of up to 64 systems within transmit range
Enjoy the convenience of a completely wireless remote control model that is easy to operate with many features; maximum comfort with minimum effort.
Model T1100RF
Wireless remote control
One of All 2-stage heat, 2-stage cool for use with gas/electric, heat pumps, electric & hydronic heat
7 Day Programmable with 4 time periods per day
Copy command
For use with gas/electric or heat pump systems
Model T1100REC
Base Station Receiver for wireless thermostat can be mounted at HVAC unit or at old thermostat's location.
Up to 4 base stations can be used with each thermostat
Back